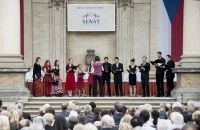 ACANT is a choir of students of the Catholic Theological Faculty of Charles University focused on sacred music of all periods and styles (with an emphasis on African-American spirituals and contemporary sacred music). The choir was founded in 2006 and already has a long series of concerts and performances on various occasions both in the Czech Republic and abroad (e.g. Italy, Great Britain, and Ireland). The choir sings under the artistic direction of choirmaster PhDr. Terezia Minářová Výborná, Ph.D. The choir's repertoire is not limited to liturgical singing but contains a range of compositions stemming from Christian traditions. Thanks to stylistic variability, the choir's performances are appreciated and welcomed.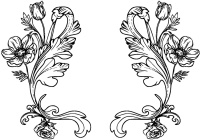 Since most of the choristers are students of the History of Christian Art at Catholic theological faculty, the name of the choir ACANT was chosen after the plant ornamental element "acanthus" used already in the Antiquity, imitating the leaf of the eponymous thistle growing in the Mediterranean. The name also refers to the Latin canto = to sing.
ACANT accepts singers in all voice groups. Anyone who likes to sing, has some experience with singing, and is at least partially familiar with musical notation or has good musical memory is welcome.
Contact:
PhDr. Terezie Minářová Výborná, Ph.D. (the Choirmaster):
Rehearsals take place each Wednesday from 18:45 to 20:30, classroom P2.