Catholic Theological Faculty
Charles University
Department of Philosophy and Systematic Theology
invites
for a CONFERENCE
Persons from the Trinity: Trinitarian Ontology and Personalism
Date and venue:
Wednesday the 26th of April,
9:00
ROOM P5
Catholic Theological Faculty
Charles University
Thákurova 3, Praha 6, 1st floor, lecture room P5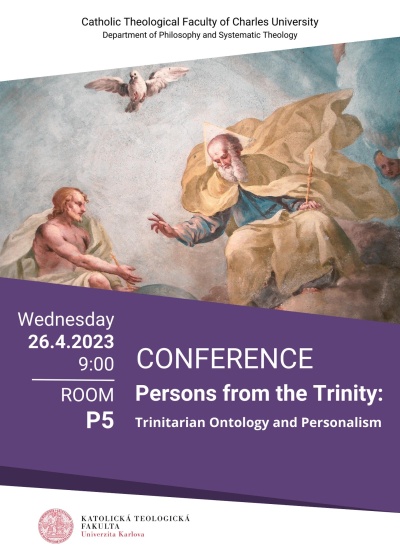 The personalism of the 20th century brought many impulses to the understanding of man as a person. Yet the question of what the term "person" means is still open and offers many different approaches. The Christian belief in the triune God brings a new view of the human person and of his essential characteristics. In this respect, the current of "trinitarian ontology", which views the reality of things and the human person in the light of the Trinitarian mystery, is particularly vivid. The international conference will offer papers by Czech and foreign scholars on the relationship of Trinitarian beliefs to anthropological questions from the perspective of philosophy, theology, political science and psychology. The main guest of the conference is the eminent English theologian John Milbank.
WHEN: Wednesday the 26th of April 9:00
WHERE: Thákurova 3, Praha 6, 1st floor, lecture room P5
ACCESSIBILITY: Free entry
LANGUAGE: English
ORGANIZERS: Researchers of the PRIMUS/21/HUM/021 project (Trinitarian Ontology of the Human person) at the Department of Philosophy and Systematic Theology
CONTACT: Pavel Frývaldský, ThD. )