"People all over the world are talking about your faith." (Rom 1, 8)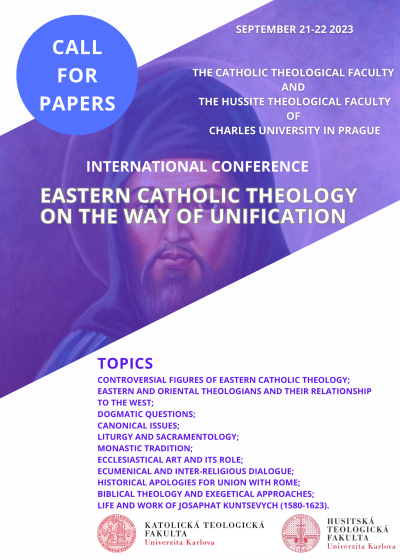 This international conference is intended for everyone interested in the issues of the mutual relationship between the Christian East and West, that has crystallized in the Eastern Catholic Churches, whose identity includes elements of the Roman Catholic tradition as well as the traditions of the Eastern, Oriental Orthodox and Eastern Orthodox Churches. The aim of the conference is to discuss the self-identification of these ecclesial communities in light of their development throughout their history. And in particular of the events preceding their unification with the Roman Catholic Church (and of course the other churches sui iuris in communion with Roman Catholic Church) and those following. We invite contributions from theologians or clergy of these churches, as well as from all scholars interested in this topic. Our interest is to deepen the dialogue between the Christian East and West and to reveal differences, but also to find ways of mutual understanding. Topics will cover all the major theological disciplines and fields (biblical theology, practical theology, dogmatics, church history, spirituality, missiology, ecclesiastical art, etc.).
Topics
Special attention will be paid to the following thematic areas:
1. Controversial figures in church history (e.g. Nestorius, Dioscorus, Photios, Mark of Ephesus, Theodore of Mopsuestia … ) and reflections on their position in Eastern Catholic theology.
2. Eastern and Oriental theologians and their relationship to the West (e.g. Gregory of Narek, Isaac of Nineveh).
3. Historical apologies for unification (e.g. J. Bekkos, Cardinal Bessarion, P. Arcudius, ...).
Other thematic areas are:
4. Christology and pneumatology (Theotokos, monophysitism, miaphysitism, filioque).
5. Dogmas proclaimed in the second millennium by the see of Rome (papal primacy, purgatory, immaculate conception).
6. Eastern sacramental theology (e.g., ex opere operato, number of sacraments, administration of the Eucharist to children, ministers of the sacrament of marriage ... ).
7. Council and synodal controversies (e.g. the Council of Constantinople in 880).
8. Consecrated life (monasticism, Western monks working in the East, Eastern Catholic orders, monasteries and christian ashrams).
9. Spiritual theology and phenomena related to asceticism (e.g. stigmatization).
10. Church visual arts (iconographic traditions, architecture, theology of icons).
11. Liturgical chants (traditional forms, use of instruments …)
12. Liturgy and liturgical issues
13. Eastern canon law
14. Evangelization, missions and theological debates between Christians and non-Christians in the Eastern Catholic milieu.
15. Reformation and reformationist tendencies in the Eastern and Oriental environment.
16. "Traditionalist" Catholicism in the Eastern Catholic Churches.
17. Theology of marriage and mixed marriages.
18. Contemporary challenges in Eastern Catholic theology (e.g.: social doctrine of the Church, environmental issues, ... ).
19. Contemporary christian movements and their relations with eastern and oriental traditions (e.g. Neocatechumenal Way, Focolare Movement, The charismatic movement, … )
20. The life, work and legacy of archbishop Josaphat Kuntsevych (this year marks the 400th anniversary of his violent death).
Date and location:
· 21.9.2023 at the Catholic Theological Faculty of Charles University in Prague
· 22.9.2023 at the Hussite Theological Faculty of Charles University in Prague
Instructions:
- The deadline for abstract submission is 31.7.2023.
- The recommended length of contribution is max. for 20 minutes.
- We prefer personal active participation. If not possible, both passive and active online participation will be available.
- Language: English. In case of explicit interest from active participants, contributions may also be presented in another language. In this case, we require a summary in English. Details are to be arranged individually.
- Conference fees:
20 € - online participation
50 € - active participation
We don't want fees to hinder anyone from registering for the conference. In a very challenging economic situation, it is possible to negotiate the amount of conference fees. In case of non-participation, the conference fee is not refundable.
+ + +
+ + +
The organizing team for Catholic Theological Faculty:
doc. Jaroslav Brož, Th.D. S.S.L.
Department of Biblical Sciences and Ancient Languages
ThDr. Ondrej Rác
Department of Systematic Theology and Philosophy
ThLic. Mgr. Jiří Dosoudil
JUDr. Alexandra Bejvančická
The organizing team for Hussite Theological Faculty:
doc. ThDr. Jiří Vogel, Th.D.
Department of Systematical Theology, Theological Ethics and Theological Philosophy
PhDr. ThDr. Mgr. Miloš David
Institute of Eastern Christianity
Bc. Dimitrije Vasković
Institute of Eastern Christianity